Being one of the most frequently visited betting sites in Nigeria, Bet9ja has something on the board that attracts punters. If you want to join the millions who are already betting on a variety of sports and reaping tasty winnings, read on to get in touch with all the necessary steps of the registration process. You'll also learn about the pitfalls that most players face, what to do after registration, and how to get the most out of it. Also, don't miss the opportunity to study Bet9ja reviews to keep yourself informed about all aspects of the service.
Why Join Bet9ja?
The sportsbook meets the expectations of all Nigerian players. It has a valid license from a local gaming authority, a package of certificates, as well as SSL encryption across all pages. Besides, the site has evolved significantly since 2013 and has become the spot where punters gather and place bets on popular UEFA, NBA, international and local matches and even on non-sporting events.
In the meantime, punters can take a break from sports and switch to more relaxing casino games. It sounds crazy, but there are a total of 685 games to pick from, including Arcade, Drops & Wins, Roulette, Slots and popular Table Games. On top of that, bettors who like to feel the thrill of land-based casinos can be delighted by the broad assortment of live games. All in all, the bookmaker remains at a very high position among Nigerian betting sites. Take a couple of minutes to discover how incredibly quick and painless the registration process is.
Terms and Conditions for Registration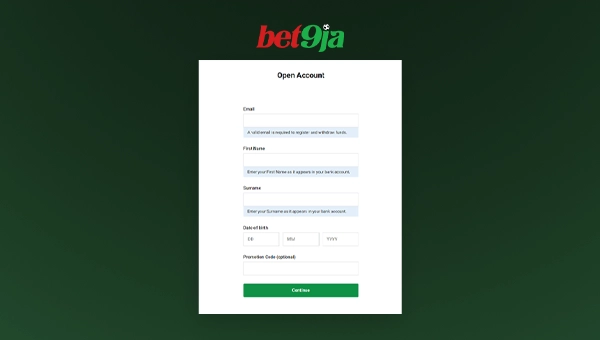 In the paragraphs below, we'll outline the primary requirements for the registration procedure to avoid typical mistakes. Although each sportsbook has its own T&C, they are usually quite alike. Pay attention to all the steps, because missing at least one of them will prohibit the following steps or might deny the cash-outs in the future.
Bet9ja Registration Requirements
In general, it's a set of ground rules that every potential player has to obey.
You Must Be Over 18
Betting regulations in Nigeria state that any punter under the age of 18 is prohibited from participating in any gambling or betting activity for real money. So, if you want to sign up and bet on sports, you're obliged to be 18+. Once the management finds out that you're younger, they will cancel the registration or ban an existing account.
Valid Email and Nigerian Phone Number
Each registration process requires a source of proof of identity. Bet9ja requires a valid email address and a working Nigerian phone number. Both of these requirements are mandatory, as these methods can prove that you're a real human being.
Important: you cannot register multiple accounts with the same email address and phone number.
A Stable Internet Connection
Another requirement that may seem obvious, but some people forget. Having at least mobile data would be enough. Although Bet9ja offers animated live streams of the matches, it doesn't require much data to run the site.
How To Create a Bet9ja Account?
To gain access to the entire spectrum of sports and betting, you'll be asked to create an account. The process is straightforward, all you need to do is input some essential data and verify your email and cell phone number.
Attention, we'll demonstrate registration on desktops, but mobile visitors can sign up easily as well.
Hit on a yellow "Register" button.
Insert e-mail.
Fill in your name.
Don't forget to insert promo code here if you have one.
Click on the "Continue" button.
Afterwards, you will receive a verification letter on the email box, make sure to click on the link.
Next stage will be to top up an account using any convenient method.
How to Verify a Bet9ja Account?
The verification process is vital as it opens the cashout process and other elements. It all starts with email checking and then you will need to provide some documents to prove your age and identity. These are acceptable documents:
Virtual NIN (Token)
NIN ID Card
Passport
NIN Slip
Voter Card
Driver's License
Any of these documents can be used as proof of identity. However, in the case of a NIN ID Card or NIN Slip, you are supposed to obtain a unique token from the National Identity Management Commission website, which will belong to you. But what's more important, don't miss any of the steps:
Open an account with Bet9ja.
Go to the withdrawal menu .
And click on "Start Verification."
Then, proceed to fill out all the forms and fields, providing scans of your documents.
Possible Problems When Registering With Bet9ja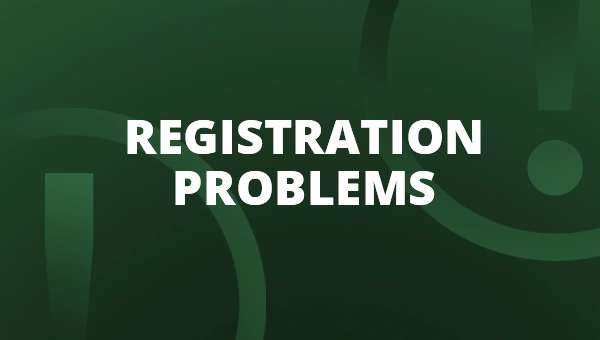 Sometimes it happens that new players encounter pitfalls when trying to access the sportsbook. Below, we will familiarize you with possible problems.
Player's Age
Often, young punters attempt to register, but are denied when the management finds out their age. Unfortunately, people under the age of 18 can lose their money playing here. No one will protect you as the T&C section strictly prohibits underage players.
Wrong Information
Another problem is to enter the wrong email or phone numbers. Be careful when filling in the Bet9ja registration form. Imagine, you have won a bet with high odds and you are excited, but at the moment of withdrawal you get rejected.
Poor Internet Connection
Additionally, always check your Internet connection and be careful when using VPN or other services to access the site. It may lead to the black or white error screens and you will be forced to go through the process again.
What You Can Do Аfter You Sign up at Bet9ja
Congratulations! You have successfully passed the simple registration process and are now ready to join the Bet9ja adventure and enjoy betting on hundreds of sports events. However, if you are not sure how to login to Bet9ja, press the сorresponding button to fill in your account identification data (username, password). Now you have to get acquainted with the interface, make a deposit using bank transfer, ATM payment or Internet banking and start betting on your favorite teams or leagues. Besides, you have the chance to grab a 100% Bet9ja registration bonus and a multiple boost promo to maximize your potential returns.
Conclusion
As you can see, registering at Bet9ja is not complicated at all, as long as you respect the age requirements, fill in your personal data correctly, and verify your account. Nevertheless, if you still have any doubts, don't hesitate to contact their call center or send an e-mail to Bet9ja managers and ask for help. There is nothing wrong with it, friendly support members will guide you through the whole process once again, explaining all the steps in detail.
FAQ

Can I have two Bet9ja accounts?
Unfortunately, Bet9ja prohibits multi-accounts.

Is Bet9ja registration free of charge?
Yes, punters are not required to make any payments during registration.

Can I do my Bet9ja registration on my phone?

Is Bet9ja registration legal?
As long as you follow the registration requirements, it's legal.

Bet9ja blocked my account: what should I do?
If you haven't broken any rules, you can call a Support Manager or write an email to clarify a situation.

What should I do before I create a Bet9ja account?
Read T&C, be sure that your jurisdiction authorizes betting, and take a quick look at the site.